The Ministry of Agriculture, Animal Industry and Fisheries has launched fertilizer distribution under the coffee rehabilitation programme in Bunyoro region in a move that will see under productive and old coffee become more productive.
In Western Uganda, the programme will benefit 11 districts including Kakumiro, Kibaale, Hoima, Masindi, Kassanda, Mubende, Kiboga, Kyankwanzi, Kiryandongo, Kikuube and Buliisa.
Speaking as the Chief Guest at the launch of the programme in Hoima on Wednesday, December 15, 2021, Lt. Col. (Rtd) Bright Rwamirama Kanyontore, Minister of State for Animal Industry, Ministry of Agriculture, Animal Industry and Fisheries, said coffee is one of the 18 enterprises that government has prioritized towards achieving Uganda's socio-economic transformation agenda.
He added that Uganda remains Africa's top coffee exporter.
"Uganda earned US$496m  in 2019/20 and US$559m in 2021 from coffee exports," Rwamirama said.
He applauded farmers for taking President Yoweri Museveni's 2014 directive where tasked Agriculture Ministry to increase coffee production from the then 3.56m to 20m 60kg bags of green coffee by 2025 (which is also captured in the coffee roadmap).
Rwamirama told farmers to move away from simply production to productivity.
"Productivity should be a catchword now," Rwamirama said, adding that it doesn't make sense to have many acres of coffee when yield per coffee tree is very small.
"You can have one acre [of coffee] and challenge someone with so many acres," the Minister said.
He said to produce productively, farmers need three things; high quality planting materials; plant nutrition (feeding coffee trees with fertilizers) and plant health.
He noted that fertilizer use should be guided by science, noting that applying the right amount of fertilizers helps the farmer produce cheaply.
The Minister said the stumped trees start producing in two years, thus farmers who stumped old trees won't wait for long. He also asked farmers to ensure good post harvest practices so that the coffee isn't contaminated.
"We are giving you organic fertilizers because our coffee is known internationally as organic. You shouldn't adulterate it," he said, adding that Government is committed to continue supporting farmers.
He also urged  farmers to form cooperatives. He further asked farmers to embrace integrated farming so that when one enterprise fails, the farmer will have a fall back position.
Speaking at the same event, UCDA Managing Director, Dr. Emmanuel Iyamulemye noted that 1.694 tonnes of fertilizers (Biochar) will be given to qualifying farmers who have stumped 2.2m trees in the said 11 districts. In an interview with Business Focus, Iyamulemye said, Government through UCDA has invested Shs8.5bn in the fertilizer distribution programme throughout the country.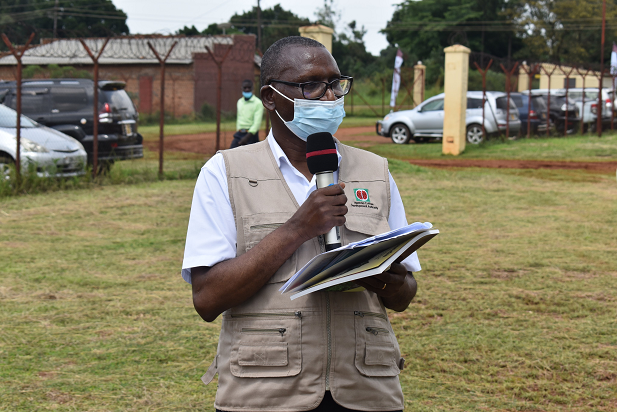 "This is equivalent to 67,679 bags of fertilizers," Iyamulemye said.
 He added: "Through this approach, very old, un-productive or under-productive coffee trees can be converted back to highly yielding cycles."
The UCDA boss further explained that application of fertilizers gives the stumped coffee a big boost to sprout vigorously and produce health stems that bear optimal crop yields in subsequent years.
"Therefore, UCDA's coffee rehabilitation programme is aimed at engaging farmers stump the old coffee trees and apply fertilizers to enhance their productivity," he said, adding that farmers will eventually embrace use of fertilizers after realizing increased yields.
The fertilizer is expected to increase coffee yields from the current 2kgs of kibooko (dry Robusta cherries) per tree (900kgs of kibooko per acre) to at least 5kgs of kibooko per tree (2,250kgs of kibooko per acre).
Iyamulemye further noted that in the last five years, UCDA has distributed over 144 million coffee seedlings to farmers in Bunyoro region (what UCDA calls Western Uganda).
"Some of them may not have survived due to so many factors but so far we have seen survival rate increase from 63% to 95%. This is due to our partnership with Operation Wealth Creation," he said.
It should be noted that in July this year, UCDA supplied fertilizers to farmers in Elgon region and the results are very good.